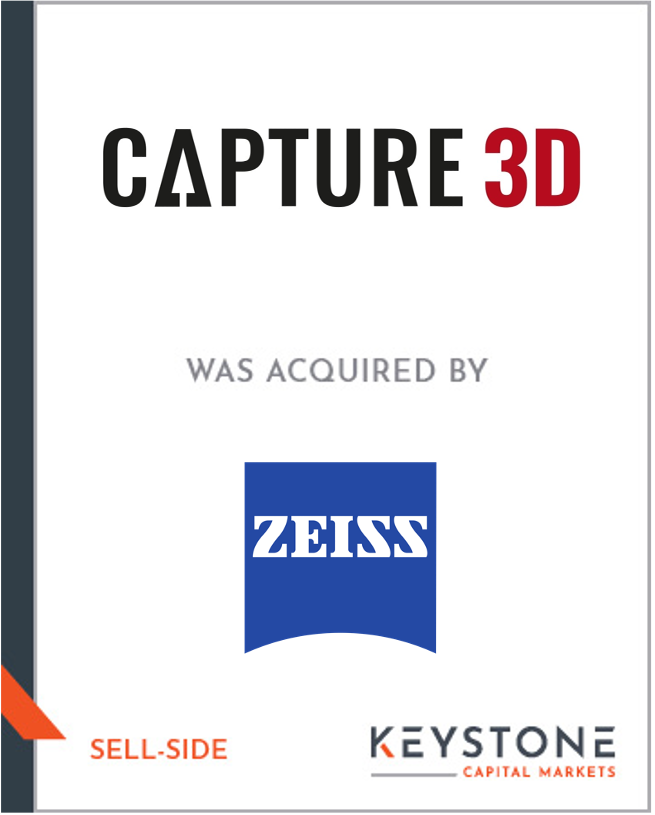 Transaction Type
Acquisition
Industry Sector
Industrials
Irvine, California, October 8, 2021 – Keystone Capital Markets is pleased to announce that Capture 3D, Inc. has been acquired by ZEISS Group. Keystone served as the exclusive financial advisor to Capture 3D.
Capture 3D, founded in 1997 as one of the first distributors of GOM precision metrology products in the United States, now has 5 locations across the US with nearly 100 employees and over 2,900 installations. From marketing and sales, to engineering, automation, and support, Capture 3D is specialized in GOM technology for various industries. The Company provides innovative 3D measurement solutions to help customers make significant improvements in product design, manufacturing, quality control, and production processes. Capture 3D's solutions deliver meaningful data intelligence to empower its customers to make good decisions and be successful.
ZEISS is a leading international technology enterprise operating in the fields of optics and optoelectronics. In fiscal 2020, the ZEISS Group generated 6.3 billion euros of revenue in its four segments: Semiconductor Manufacturing Technology, Industrial Quality & Research, Medical Technology and Consumer Markets.
Rick White, Chief Executive Officer of Capture 3D stated, "Randy and Wyatt were instrumental in helping us prepare, negotiate and close the transaction with ZEISS. We relied heavily on their expert advice and guidance throughout the process and are extremely pleased with the successful result."
Randy Krauthamer, Managing Director of Keystone Capital Markets said, "We enjoyed working with the management team on this transaction and look forward to tracking the company as it continues to expand its presence in the US."