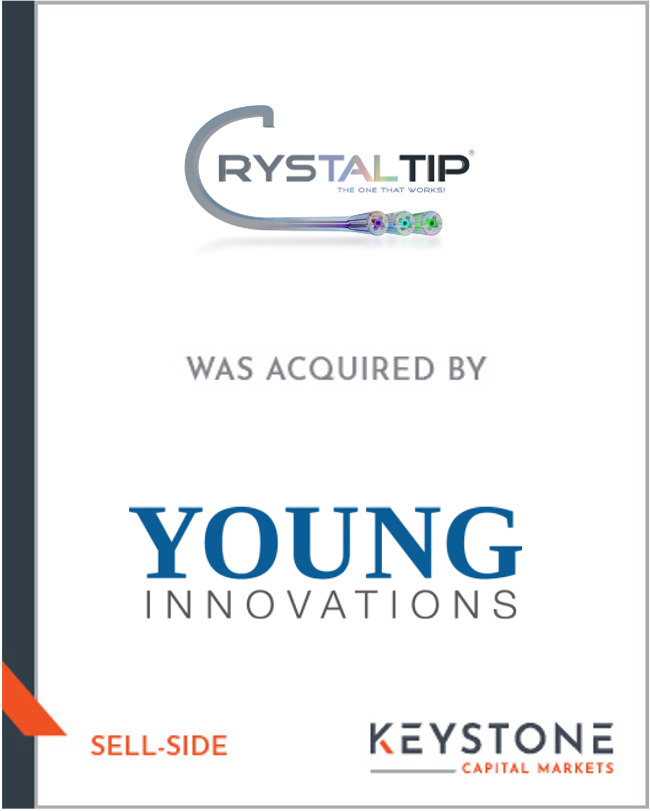 Transaction Type
Acquisition
Industry Sector
Healthcare
IRVINE, California, April 30, 2019 – Keystone Capital Markets is pleased to announce that Westside Resources, Inc. sold its Crystal Tip®, Starz Tipz®, Natures Tip™, and Biofree Tips™ brands of leading disposable air/water syringe tips and adapters to Young Innovations, a leading global supplier of dental products. Keystone Capital Markets served as exclusive financial advisor to the seller.
Based in Irvine, CA, Westside Resources manufactures a wide range of extruded single use tips under multiple brand names, styles and materials. In addition, the company manufactures reusable adapters that are required to fit single use tips onto different syringe types. The company owns and utilizes extrusion machines, Swiss CNC machines, and related downline machines to self-perform secondary operations in-house.
"Randy Krauthamer and the Keystone team were instrumental in maximizing the value of the total transaction. In fact, Randy negotiated a significant increase to the purchase price after we signed the Letter of Intent. This speaks to the quality of the Keystone team," said Donovan Berkley, CEO of Westside Resources.
"Donovan and the Westside team were a pleasure to work with and worked tirelessly to help us achieve such a successful result for them" commented Randy Krauthamer, Managing Director of Keystone.