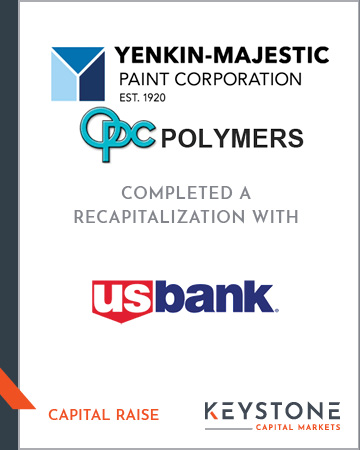 Transaction Type
Recapitalization
Industry Sector
Industrial Manufacturing
IRVINE, California, October 15, 2018 – Keystone Capital Markets, Inc. ("Keystone") is pleased to announce that its client Yenkin Majestic Paint Corporation / OPC Polymers ("Yenkin-Majestic") has completed an internal recapitalization of the company, with financing provided by U.S. Bank. Keystone served as the exclusive financial advisor to Yenkin-Majestic.
Based in Columbus, Ohio, Yenkin-Majestic is a vertically integrated formulator and manufacturer of paints & coatings, and resins used to produce paints & coatings. Founded in 1920, the Company is a leading manufacturer of special application resins for the paint market and one of the top North American suppliers of resins for the coatings industry.
The Company has reached an inflection point and through the recapitalization has positioned itself for future growth. Keystone consulted on strategic alternatives, advised on the preparation and execution of the recapitalization, created a competitive financing process, led the negotiations, and acted as exclusive financial advisor to Yenkin-Majestic.
Andrew O. Smith, Chief Operating Officer of Yenkin-Majestic, commented, "There were a lot of complexities in this transaction, which the Keystone team helped us navigate successfully.  Their knowledge of the financing markets gave us several excellent options and resulted in a capital structure that supports our future."
"Yenkin-Majestic/OPC Polymers has established a premier reputation and presence in its industry," said Brad Schreiber, Managing Director at Keystone. "Management has brought the Company to a position where it is ready to substantially scale. This recapitalization enables the company to pursue several strategies to drive growth and realize its vision for the future."