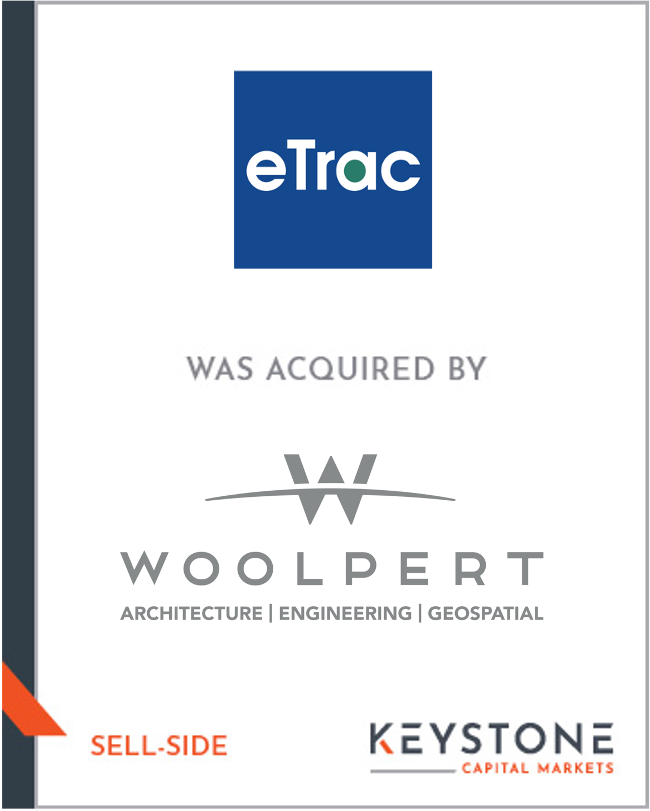 Transaction Type
Acquisition
Industry Sector
Business Services; Engineering
Irvine, California, January 21, 2022 – Keystone Capital Markets is pleased to announce that eTrac, Inc. has been acquired by Woolpert, Inc. Keystone served as the exclusive financial advisor to eTrac, Inc. eTrac will become part of Woolpert's geospatial sector and will expand to serve clients throughout the U.S. and around the world.
Founded in 2003, eTrac, Inc. is a vessel-based hydrographic survey and marine technology firm that conducts custom and integrated marine services for projects across the U.S. and its territories. Services include collecting and processing hydrographic survey and bathymetric mapping data for coastal mapping, navigation safety and nautical charting, high-resolution multibeam sonar data for shipping channel dredging and pipeline inspections, underwater imagery and aerial lidar data for change analysis, and vessel positioning and monitoring. eTrac is headquartered in San Rafael, Calif., and has offices in La Porte, Texas; Port Orchard, Washington and Wasilla, Alaska.
Woolpert, Inc. provides architecture, engineering, geospatial, and strategic consulting services. It serves customers in various industries related to aviation, parks and recreation, education, private development, energy, state and local government, federal government, transportation, maritime, water, and national security.
Michael Mueller, founder of eTrac stated, "Randy Krauthamer helped us prepare, negotiate and close the transaction with Woolpert. We couldn't have done it without his expertise and commitment to close the transaction. We are very pleased with the successful result and excited to join Woolpert team."
Randy Krauthamer, Managing Director of Keystone Capital Markets said, "It was a complicated process that resulted in a great outcome for all the parties involved."