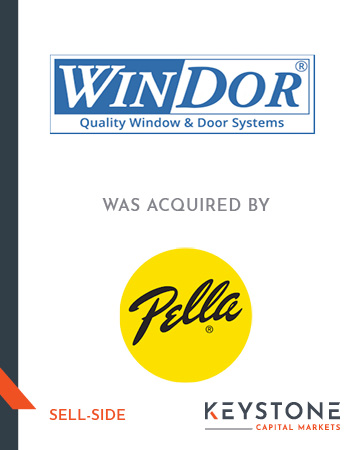 Transaction Type
Acquisition
Industry Sector
Building Materials; Industrial Manufacturing
IRVINE, California, November 29, 2022 – KCM Securities, LLC d/b/a Keystone Capital Markets ("Keystone") is pleased to announce that Win-Dor, Inc. ("Win-Dor" or the "Company") has been acquired by Pella Corporation ("Pella"). Keystone served as exclusive mergers and acquisitions advisor for Win-Dor.
Founded in 1990, Win-Dor is a manufacturer of high-quality vinyl windows and doors, specializing in expansive, multi-panel door systems. The Company has sold over 1,000,000 windows and doors nationally.
Pella Corporation designs and manufactures windows and doors for residential homes and commercial applications. The company is headquartered in Pella, Iowa, and employs more than 10,000 people, with 19 manufacturing locations and more than 200 showrooms across the country.
Gary Templin, President, stated, "Keystone ran an excellent process and did an outstanding job of positioning our company, as well as negotiating on our behalf. We are extremely pleased with the outcome of this transaction."
Allan Siposs, Managing Director at Keystone commented "Win-Dor has developed unique expertise in a product category that has significant long-term potential. We look forward to the Company expanding its growth opportunities as part of the Pella family." Erik Choy, Director, added, "Win-Dor is recognized for products that successfully capture the indoor-outdoor California lifestyle. We are pleased to have orchestrated a transaction that helps ownership achieve its objectives and positions the Company and its employees to build upon its success under Pella's ownership."