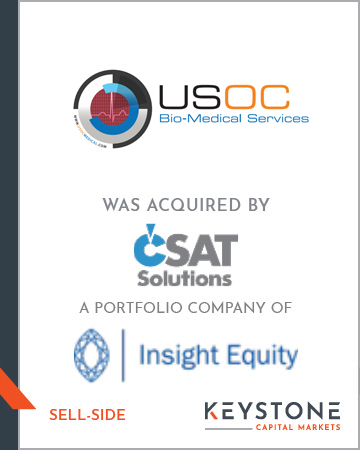 Transaction Type
Acquisition
Industry Sector
Healthcare; Technology
IRVINE, California, November 5, 2021 – Keystone Capital Markets ("Keystone") is pleased to announce that its client USOC BioMedical, LLC ("USOC") has been acquired by CSAT Solutions ("CSAT") a portfolio company of Insight Equity ("Insight"). Keystone served as the exclusive investment banking advisor to USOC.
Based in Irvine, California, USOC is a leader in the biomedical equipment and device industry, providing high-quality certified repair and maintenance services, new and professionally refurbished medical equipment and devices, and OEM and OEM-compatible parts & accessories to hospital systems, medical equipment management companies, independent hospitals, medical centers, clinics, surgical centers, medical practices and other healthcare facilities, as well as medical equipment dealers and other medical companies across North America and the world.
Based in Houston, Texas, CSAT is an industry-leading consumer and commercial electronics repair service provider. The company is a global leader and all-in-one computer depot repair center providing in-and out-of-warranty whole-unit and component repairs, as well as inventory management and forward / reverse logistics services, to its blue-chip customer base of computer OEMs.
Based in Dallas, Texas, Insight Equity makes control investments in strategically viable, middle-market manufacturing, distribution, and services businesses across a wide range of industries. Leveraging its collaborative value creation model, Insight Equity facilitates operating enhancements, efficiency improvements, and growth. The firm specializes in partnering with companies in a variety of situations, including traditional leveraged buyouts, corporate divestitures, management buyouts, growth opportunities, going-private transactions, restructurings, and transitions from family ownership.
Ali Youssef, Chairman and Chief Executive Officer of USOC commented, "This transaction enables USOC to accelerate its growth, better serve its customers, and achieve its full potential as part of CSAT's medical equipment repair solutions, and at the same time allows CSAT to expand its product and service offering, maintenance and repair capabilities, customer base and markets served."  He continued, "We are extremely pleased with Keystone's advice, guidance and performance in the sale process. They presented us with multiple attractive options for the future of the company and we are thrilled to be a part of CSAT going forward."
"USOC is widely recognized as one of the top biomedical equipment independent sales & service organizations (ISO) in North America. It was a privilege to represent this exceptional company and work with its talented management team," said Brad Schreiber, Managing Director at Keystone. "We look forward to the company's continued growth and success as part of CSAT."