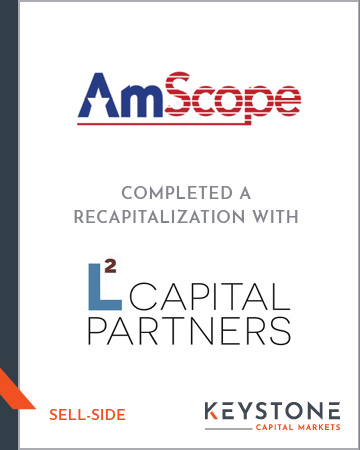 Transaction Type
Majority Recapitalization
Industry Sector
Consumer Products / E-Commerce
IRVINE, California, December 2, 2017 – Keystone Capital Markets, Inc. ("Keystone") served as the exclusive advisor to United Scope, LLC dba AmScope and its shareholders in a majority recapitalization of the Company with an affiliate of L Squared Capital Partners. L Squared will provide capital and management resources to accelerate domestic and global expansion.
Headquartered in Irvine, California, United Scope is a leading seller of branded microscopes solutions and related products to a broad range of customers across multiple online channels. L Squared Capital Partners is an investment firm with offices in Newport Beach, California, and Chicago, Illinois.
Keystone leveraged its resources and connections with domestic and international suitors to create a highly competitive transaction process. Ultimately, multiple suitors expressed strong interest in the business and L Squared was selected as the partner of choice.
Andrew Wu, owner of United Scope stated, "Keystone was key to the success of our transaction. The team provided great support and strategic thinking throughout the process. We couldn't have completed this transaction without them."
Randall Hunt, Partner of L Squared Capital Partners commented, "As an experienced private equity investor who has worked with a large number of investment banks, I can truly say that the Keystone team was a unique pleasure to work with. They ran a robust and professional process for their client, while tightly managing all aspects of the deal. We are excited about the opportunity with United Scope and look forward to working with Keystone on future transactions."