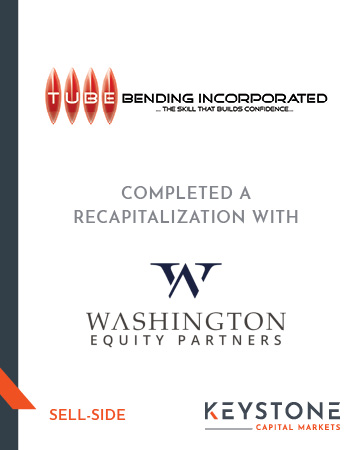 Transaction Type
Recapitalization
Industry Sector
Aerospace & Defense; Industrial Manufacturing
Irvine, California, February 6, 2020 – Keystone Capital Markets, Inc. ("Keystone") is pleased to announce that Tube Bending, Inc. ("TBI") has completed a recapitalization transaction with Washington Equity Partners ("Washington Equity").  Keystone served as exclusive mergers and acquisitions advisor for TBI.
Founded in 1959, TBI designs and fabricates specialty tube components and related assemblies for aerospace, medical, and industrial clients.  The business has been family owned for over 60 years, and has experienced tremendous growth and success.  The owners of the company were interested in attracting an entrepreneurially focused business partner to help facilitate the company's ongoing growth and development, while also providing resources that would allow the current owners to take their business to the next level.
After evaluating a variety of strategic and financial partners, the sellers decided to proceed with Washington Equity, which brought a compelling proposal to the table.  "We were impressed with Washington Equity's knowledge of the precision tube fabrication segment.  We are excited with the industry contacts and know-how that they will bring to our company. Keystone did a terrific job finding a wide variety of suitors for us to consider, and helping us evaluate each of these potential partners.  Keystone worked hard to craft a deal that achieves our growth and liquidity objectives.  We couldn't have done it without them!" –  Bryan Christoffersen, President of Tube Bending, Inc.