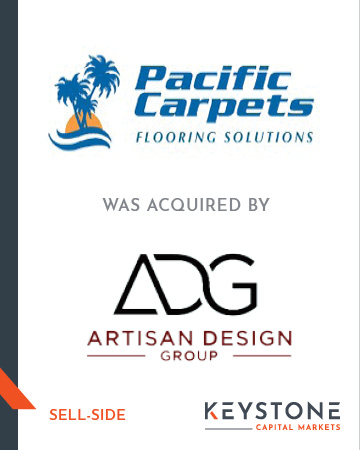 Transaction Type
Acquisition
Industry Sector
Building Materials; Industrials
IRVINE, California, December 31, 2020 – KCM Securities, LLC d/b/a Keystone Capital Markets ("Keystone") is pleased to announce that Pacific Carpets has been acquired by Artisan Design Group, a portfolio company of The Sterling Group. Artisan Design Group is headquartered in Dallas, TX and operates more than 90 distribution, design and service facilities and coordinates installation services of building materials across 22 states.  Keystone served as the exclusive M&A advisor to Pacific Carpets and its shareholder in this transaction.
Founded in Huntington Beach, California, in 1999, Pacific Carpets is a turnkey supplier of carpet, hardwood, tile, countertops, luxury vinyl tile and other surface solutions for the commercial market. The company serves the hospitality, office, apartment and healthcare sectors and maintains a strong reputation amongst large scale multifamily developers. Pacific Carpets is well known for superior quality and exceptional service, and for creating dependable partnerships with industry leaders in the multifamily market.
After 12+ years of successfully growing the business, the owner of Pacific Carpets, Clint Walker, wanted to find a "like- minded" buyer to help grow the company and expand operations. Geoff Blunt and David Luvisa leveraged their knowledge in the building materials sector, as well as their prior transaction experience in the flooring segment, to identify the right suitors for this transaction.  Keystone managed a competitive sale process and ADG was selected as the suitor of choice.  Going forward, Clint Walker will continue managing the business and participate in future growth as part of a national brand in the building materials segment.
Clint Walker, the owner of Pacific Carpets stated, "Geoff and David at Keystone Capital Markets made this possible for Pacific Carpets and me!  Keystone's down to earth approach, market knowledge and total professionalism is rivaled by none, and I cannot thank them enough."
Geoff Blunt, Managing Director of Keystone Capital Markets said, "We are very pleased with the outcome of this transaction for our client. We look forward to tracking Pacific Carpets as it continues to expand its presence on the West Coast under the ADG umbrella."  David Luvisa added, "Clint has done a really nice job transforming the company into a major player in the California market.  Aligning with ADG will position the Company to grow to the next level."