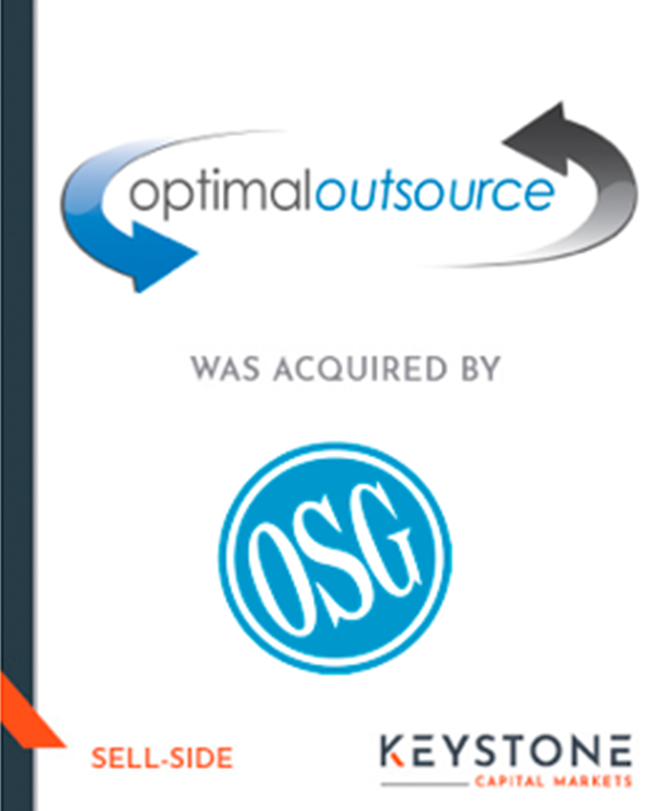 Transaction Type
Acquisition
Industry Sector
Business Services
Optimal Outsource is an innovative provider of web-based mailing solutions for financial information and other critical documentation.  Because the company had a proprietary e-portal platform, competitors had approached Optimal on an unsolicited basis.  The shareholders engaged Keystone to manage the preemptive suitors, identify and attract additional buyers, and ultimately complete an attractive transaction.  Keystone worked with the shareholders over the next four years, advising on implementing value-enhancing strategies and attuned to industry developments.
Once the sale process began in earnest, Keystone kept initial suitors engaged and aware of its competitive process, while using its expertise to increase the shareholders' leverage.  As a result, Keystone negotiated a transaction with one of the preemptive suitors that included a significant premium to other offers.  During the buyer's due diligence process, Keystone facilitated the resolution of some critical issues while maintaining deal momentum.  Through its knowledge of the market and buyers, negotiating skill, creative problem-solving, and unrelenting pursuit of the shareholders' objectives, Keystone delivered a transaction that far exceeded their expectations.
The buyer is now working with Optimal Outsource's President (who was also a shareholder) to leverage its technologies and capabilities, while the other shareholder is enjoying his desired lifestyle and the financial rewards associated with his previous work in the business.
Nick McMurray, former shareholder and President of Optimal, said "Having Keystone lead us through this transaction streamlined an otherwise challenging process and resulted in a superior outcome for us. Prior to engaging Keystone, we suspected that Optimal would be valuable to certain buyers, but we didn't realize how important it was to have experienced M&A advisors assisting us with positioning the company to take advantage of the marketplace and negotiating with multiple buyers."