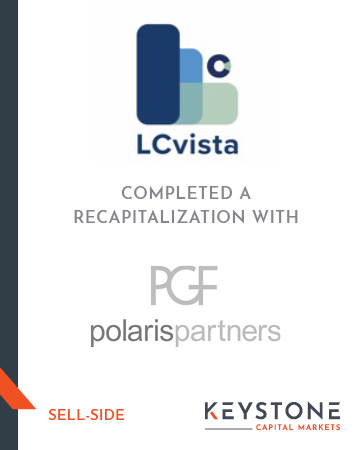 Transaction Type
Recapitalization
Industry Sector
SaaS; Learning & Compliance Management
IRVINE, California, November 3, 2022 – KCM Securities, LLC d/b/a Keystone Capital Markets ("Keystone") is pleased to announce that LCvista, Inc. ("LCvista") has completed a recapitalization with the support of Polaris Growth Fund ("PGF"). The transaction generated shareholder liquidity as well as growth capital to fund acquisitions and accelerate product initiatives. Keystone served as the exclusive advisor to LCvista in this transaction.
Since its founding in 2016, LCvista has delivered an all-in-one integrated solution to over 80 accounting firms that brings clarity, understanding, and efficiency to the professional learning and compliance landscape. The Company's product solution ensures compliance accuracy and helps customers meet the evolving needs of learning management in the accounting sector.
"Backed by PGF's resources and expertise, our company is well positioned to accelerate growth," said Scott McAfee, co-founder and Chief Sales Officer of LCvista, who will assume the same role at the combined company. "Keystone guided us through this transaction and found the ideal partner that meshes with LCvista's culture and vision for the future."
"We are grateful for the opportunity to partner with the founders of LCVista to help further cement and build off their leadership position in the accounting specific compliance and learning software market. We were fortunate to work with Geoff and the Keystone team on this transaction. Geoff's deep knowledge of the business, experience working with founder owned companies at this stage, and ability to help both sellers and buyers navigate each step of the deal process made for a seamless transaction," added Sabrina McLaughry, Principal at Polaris Growth Fund.
"We are thrilled at the outcome of this transaction for the LCvista team and their partnership with PGF. We look forward to seeing the business accelerate in the next phase of its growth", said Geoff Blunt, Managing Director at Keystone Capital Markets.
Polaris Growth Fund is a software-focused, specialized affiliate fund of Polaris Partners, a Boston-based private investment firm with two decades of technology and healthcare investing experience. Polaris has offices in Boston, San Francisco and New York.