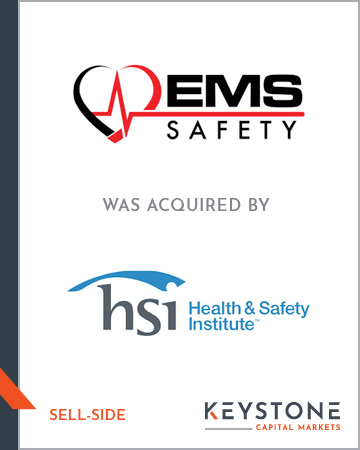 Industry Sector
HEALTHCARE, BUSINESS SERVICES
IRVINE, California, January 4, 2019 – Keystone Capital Markets, Inc. is pleased to announce that EMS Safety Services, a fast-growing provider of first aid and CPR training solutions, has been acquired by Health Safety Institute ("HSI"). Keystone served as financial advisor to EMS Safety Services.
Based in San Clemente, CA, EMS Safety Services, Inc. (EMS) provides CPR, AED and first aid certification courses. The company is a resource for critical information, skills training and supplies. Customers include healthcare, fire and law enforcement agencies, as well as large and small businesses, schools, universities, childcare centers, government agencies, community organizations and individual instructors.
The Health & Safety Institute is a family of well-known and respected brands in the Environmental Health and Safety (EHS) space. HSI is majority owned by The Riverside Company, an operationally oriented global private equity firm.
Marian Lepore, chief executive officer of EMS Safety Services, said, "EMS Safety is a natural fit with the HSI family of companies, including its ASHI and MEDIC First Aid training brands. Not only will our content and training programs further expand HSI's extensive library of courses, the solutions offered through the HSI Platform, Vivid Learning Systems, Summit Training Source and SafeTec Compliance Systems brand solutions will provide a great opportunity to simplify customers' safety and compliance footprint."