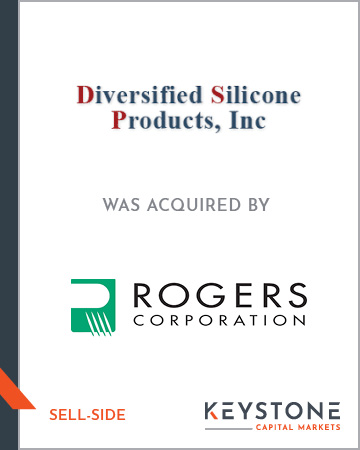 Industry Sector
Industrial Manufacturing
IRVINE, California, January 6, 2017 – Keystone Capital Markets, Inc. ("Keystone") is pleased to announce that Diversified Silicone Products has been acquired by a subsidiary of Rogers Corporation. Keystone served as the exclusive advisor to Diversified Silicone Products in this transaction.
Headquartered in Santa Fe Springs, California, Diversified Silicone Products is a custom product development and manufacturing business specializing in silicone sheeting products that serves a wide range of high reliability applications. Based in Rogers, Connecticut, Rogers Corporation is a global leader in engineered material solutions.
"After receiving unsolicited offers from serious buyers, we hired Keystone Capital Markets to manage the process, find alternative suitors, and negotiate an optimal transaction for us", David Lindley, President of DSP remarked, "KCM did a beautiful job positioning our company and negotiating on our behalf. I am thrilled with the deal that they put together for us."
"In today's active M&A market, many of our clients receive preemptive offers from strategic acquirers. We are very pleased with the incremental value that we were able to bring to our client in this extremely successful transaction", said Allan Siposs, Managing Director of Keystone.