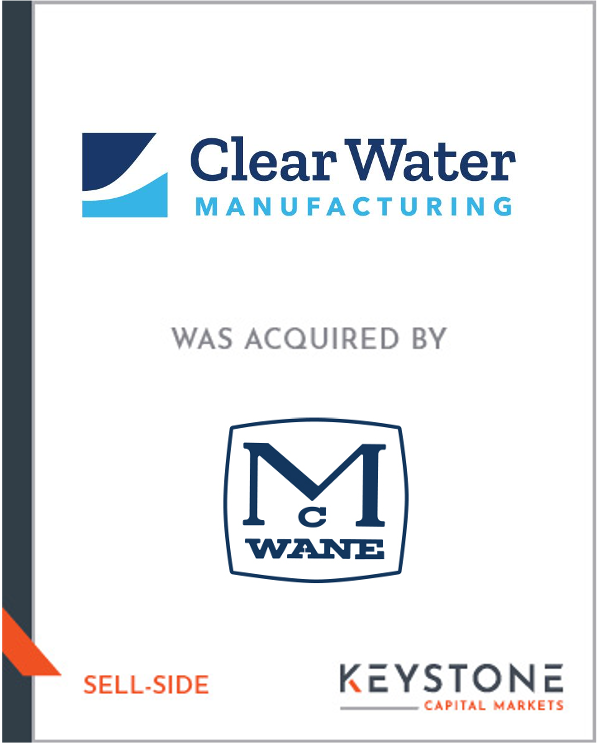 Transaction Type
Acquisition
Industry Sector
Building Materials; Industrials
IRVINE, California, December 31, 2020 – Keystone Capital Markets ("Keystone") is pleased to announce that its client Clear Water Manufacturing Corp. ("Clear Water") has been acquired by McWane, Inc. ("McWane"). Keystone served as the exclusive investment banking advisor to Clear Water.
Based in Wethersfield, Connecticut, Clear Water manufactures and distributes ductile iron pipe fabrications and fittings sold into water and wastewater markets. The company supplies leading national and regional waterworks distributors and contractors in the Eastern and Southern U.S. & Eastern Canada from strategically located production facilities in Connecticut, Virginia, Kentucky and Texas. Clear Water is known for its broad fabrication capabilities and waterworks technical expertise, combined with high quality products, on-time delivery and exceptional customer service.
McWane is a global leader in water distribution and infrastructure, with products including ductile iron pipes, valves, hydrants, waterworks fittings, plumbing products, fire extinguishers, fire suppression systems, steel pressure vessels, utility poles, and other equipment sold through a network of distributors in the United States and internationally.
Patrick Sullivan, Chief Executive Officer of Clear Water commented, "Many of us have worked with McWane companies, not just with Clear Water, but as members of other organizations over the last thirty years.  Keystone did a great job of bringing the parties together and helping us to consummate the sale"
"It was a privilege to represent this exceptional company and work with its talented management team," said Brad Schreiber, Managing Director at Keystone. "The transaction enables Clear Water to accelerate its growth, better serve its customers, and achieve its full potential as an integral part of McWane's waterworks group, and at the same time allows McWane to expand its product offering, fabrication capabilities, customer base and markets served."