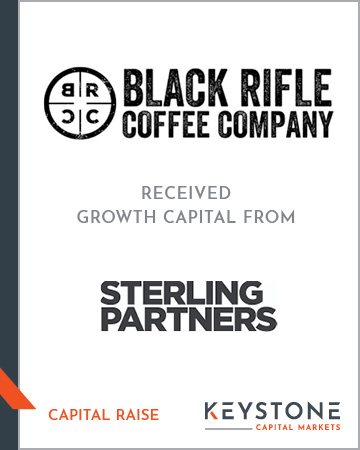 Transaction Type
Growth Equity
Industry Sector
Consumer / Food & Beverage
IRVINE, California, December 1, 2017 – Keystone Capital Markets, Inc. ("Keystone") is pleased to announce that Black Rifle Coffee Company ("BRCC"), a veteran-owned, small-batch coffee roaster, has raised growth equity from Sterling Partners. Keystone served as financial advisor to BRCC in this transaction.
Headquartered in Salt Lake City, BRCC has earned a loyal following of conservative customers with an irreverent and "politically incorrect" approach to marketing. The company prides itself on the support that it provides to the veteran community, and the freshness of its products, with all batches being roasted to order and shipped the next day. BRCC will use the growth capital it has raised to expand nationwide.
Based in Chicago, Sterling Partners is a private equity and venture capital firm specializing in early venture, buyout investments in growth stage, small and middle market private companies.
"This successful capital raise transaction will allow this exciting business to fund its accelerated growth trajectory," said Craig Primo, Managing Director of Keystone.