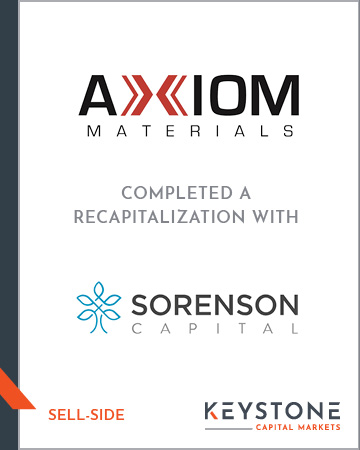 Transaction Type
Majority Recapitalization
Industry Sector
Industrial Manufacturing
IRVINE, California, August 1, 2016 – Keystone Capital Markets, Inc. ("Keystone") is pleased to announce that Axiom Materials, a leader in advanced composites completed a recapitalization transaction with Sorenson Capital Partners.
Keystone served as the exclusive financial advisor to Axiom Materials in this transaction. Headquartered in Santa Ana, California, Axiom Materials is a manufacturer of proprietary prepregs, film adhesives, paste and primer compounds, composite components, and advanced composite products. Axiom's diversified customer base includes businesses involved with the aerospace & defense, industrial, automotive and power industries. The Company couples state-of-the-art manufacturing processes with proprietary technologies to provide complex products to attractive segments of growing niche markets.
Sorenson Capital Partners will provide capital and management resources to accelerate global expansion of the Company's products.
Johnny Lincoln, Ph.D., Founder and President of Axiom, added, "Randy Krauthamer and his team put in the hours throughout this process – holidays, nights and weekends – to create a favorable outcome. At every turn, I was 100% confident that my Keystone team went to battle for the shareholders of Axiom – they exceeded our expectations and got the deal done quickly so we could get back to work. Ultimately, this process resulted in an exciting partnership for us with an experienced, growth-oriented partner in Sorenson Capital Partners."