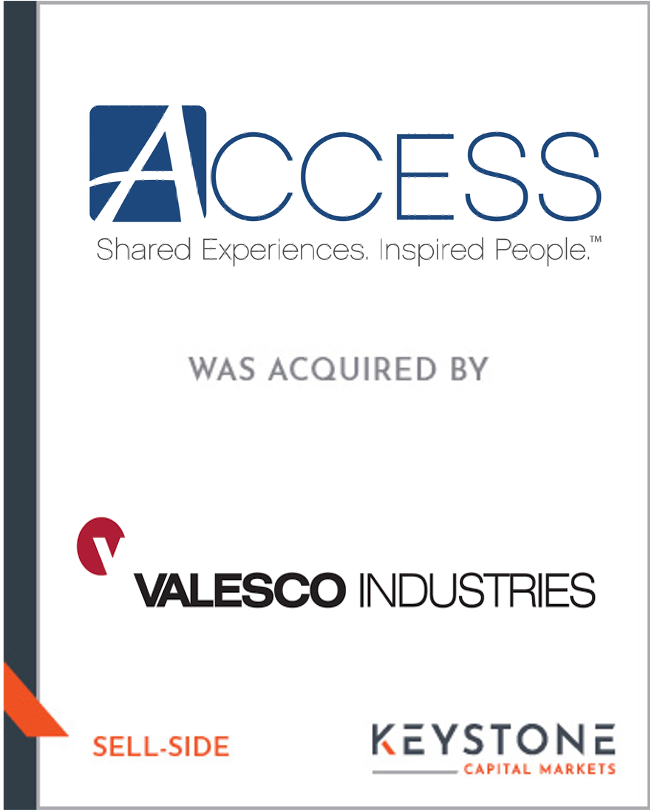 Transaction Type
Acquisition
Industry Sector
Business Services
BACKGROUND
ACCESS Destination is a San Diego-based business that designs large-scale, off-site events for Fortune 500 companies that enhance the acquisition and retention of customers and employees. The shareholders wanted to take advantage of strong market conditions and identify an investment partner that would acquire a majority interest and provide capital to accelerate the management team's growth strategy.
PROCESS AND STRATEGY
The company's shareholders retained the professionals at Keystone to initiate a global marketing process. Keystone became intimately familiar with the business' operations and competitive position, then developed an aggressive global marketing campaign targeting strategic investors, which attracted a number of suitors. After the shareholders terminated their Letter of Intent (LOI) with an initial suitor, Keystone secured a more favorable LOI with an investor that better understood the company and industry. During an extended due diligence process, Keystone negotiated the favorable resolution of four crucial deal points with various members of the investor group, while artfully maintaining consensus amongst the three shareholders who had different personal and business objectives.
RESULTS
Keystone's resourcefulness and relentless advocacy in the face of unexpected challenges, resulted in successful completion of the transaction, an excellent outcome for each shareholder, and a very bright future for ACCESS.
THE DIFFERENCE …
EXPERIENCE, CREATIVITY, AND TENACITY
Understanding company-specific value drivers and growth opportunities
Vetting the marketplace and identifying suitors beyond the usual suspects
Articulating compelling value propositions to achieve premium valuations
Anticipating potential issues and identifying creative solutions
Tailoring a strategy to meet the needs of each client … and the deal
"I highly recommend Keystone. They not only took the time to understand our business, but helped us clarify our goals to ensure we found the best partner and achieved maximum value. We could not have done this without Keystone."  Chris Lee – Founder and CEO
_______________________________
"Keystone helped us see our business in different ways. I do not believe this transaction would have occurred without their focus, intellect, unflappable professionalism, and unrelenting energy."  Peter Cohen – President
_______________________________
"Keystone's ability to advocate for their client while suggesting solutions that bridged gaps between the parties was a key factor in our ability to close a deal."  Bruce Lipian — Investor