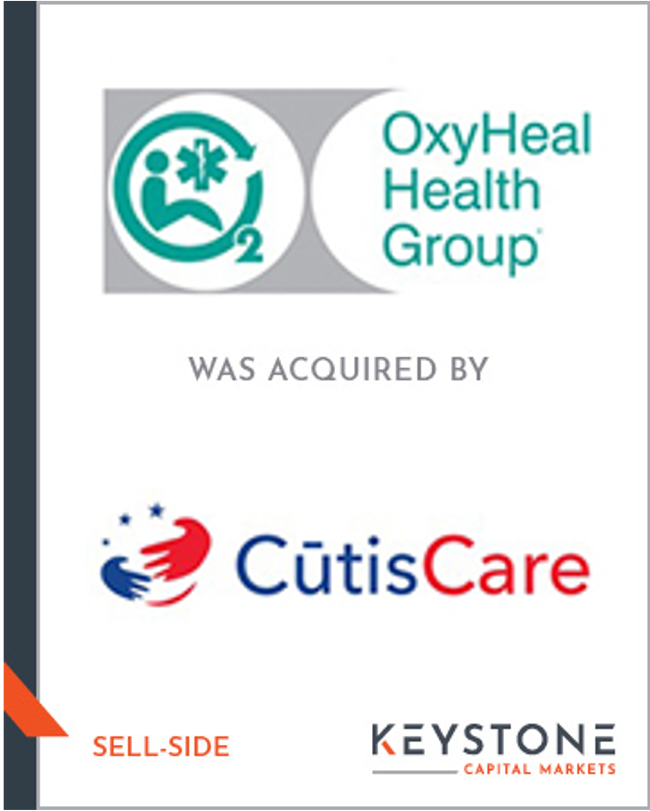 Transaction Type
Acquisition
Industry Sector
Healthcare
THE CHALLENGE
The shareholders of OxyHeal Health Group, the world's leading provider of turnkey hyperbaric medicine solutions for acute care hospitals, was looking to sell the 44-year-old company and retire. Between 2006 and 2013, the owners hired three different investment banking teams, including "industry specialists", but none were able to consummate a deal.
PROCESS AND STRATEGY
The company's shareholders retained the professionals at Keystone to initiate a new sales process. A senior Keystone professional with extensive operating experience took the time to thoroughly understand the company's operations and markets. Keystone then developed an aggressive strategy to market the company to a focused list of domestic and foreign strategic suitors, including operating companies and private equity groups with related platform investments. Keystone then secured a Letter of Intent, with a very attractive transaction structure, from a strategic buyer with a track record of industry success. Issues in due diligence delayed the process several months and led to the restructuring of transaction terms. Keystone worked tirelessly with the client and buyer to maintain a constructive deal atmosphere, developed creative solutions to address the buyer's concerns and keep the deal alive, and negotiated additional structure that will potentially result in an even higher transaction multiple.
RESULTS
Keystone's creativity, and relentless advocacy in the face of numerous challenges, resulted in a successful close of the transaction and an unprecedented financial outcome for the shareholders.
THE DIFFERENCE …
EXPERIENCE, CREATIVITY, AND TENACITY
Understanding each business' key value drivers and growth opportunities
Vetting the marketplace and identifying suitors beyond the usual suspects
Managing challenging situations throughout the process
Articulating compelling value propositions to attract the right buyers
Tailoring our strategy to the needs of the client … and the deal
"We hired three previous investment banks, including so-called "industry experts", but none had the prior operating experience or commitment to truly learn our business.  That capability, along with Keystone's tenacity and creative problem-solving under unusually difficult circumstances, is the only reason this deal happened …and with better terms than any previous investment bank could deliver."   Ted Gurneé – Founder & CEO, OxyHeal Health Group (Client)
_______________________________
"We cannot overstate how critical the Keystone team was to completing this deal – they did the work, found the answers, gave all parties confidence, and held a challenging and lengthy process together. They were expert and professional throughout."  Lou Caballero – Partner, Bison Capital (Investor)
_______________________________
"Our firm has encountered a wide range of M&A advisors.  I have never worked with one that assisted a client as much with negotiating and consummating a transaction as Stuart Moss at Keystone.  Stuart's commitment, knowledge and patience helped to complete a very challenging transaction."  Matthew Short — Procopio Cory, et. al. (Seller's counsel)