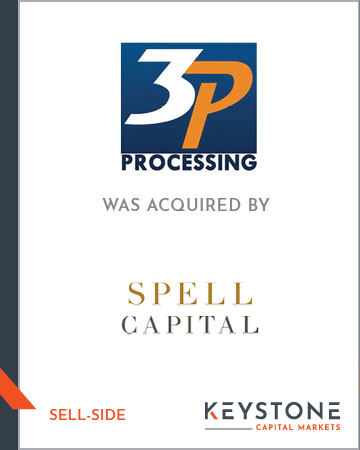 Transaction Type
Recapitalization
Industry Sector
Industrial Manufacturing
IRVINE, California, March 27, 2018 – Keystone Capital Markets, Inc. ("Keystone") is pleased to announce that 3P Processing, a provider of metal finishing, testing and inspection services has been acquired by Spell Capital Partners. The acquisition allows the management team to participate in the growth of the business through ownership of the company post close. Keystone served as exclusive financial advisor to 3P Processing.
Based in Wichita, Kansas, 3P Processing is a full-service provider of metal finishing, testing and inspection services to the Aerospace & Defense industry. With numerous OEM approvals, the Company provides services for major commercial aircraft, business aircraft and defense platforms. The Company operates from a single, owned facility with approximately 115,000 square feet of combined office and processing space.
3P Processing was an investment held by the Highland Crusader Offshore Partners fund, with Alvarez & Marsal CRF Management ("A&M") serving as the investment manager of the fund.
"Randy Krauthamer and the Keystone team ran a well-orchestrated, thorough process that was instrumental in maximizing the value of 3P Processing. We enjoyed the professionalism, tenacity and quality of the Keystone team", said Steve Varner, Managing Director of A&M. "This transaction required a creative approach due to legacy environmental liabilities. We kept the parties focused on win-win solutions and tackled potential issues before they surfaced and became problems" commented Randy Krauthamer, Managing Director of Keystone.